Color and Heirlooms Combine in a Welcoming Bungalow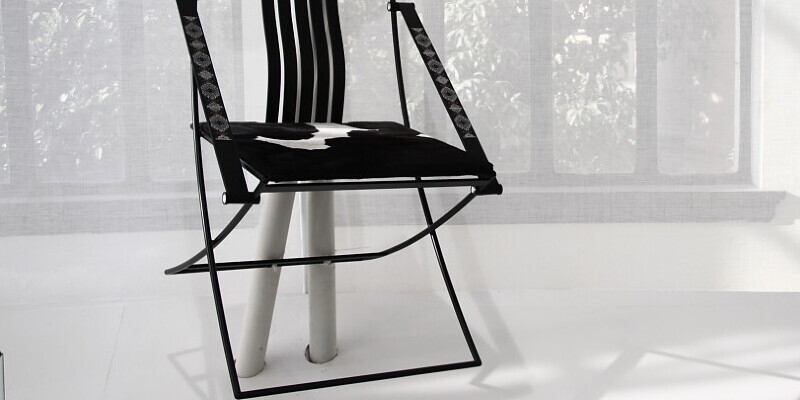 Priscilla Rieves began giving her husband, Mark, decorating advice before they were dating. When he bought his 1921 bungalow at Dallas' Vickery Place, a historical community, he'd ask coworkers for decorating ideas. "Priscilla worked at the office with me, and she never steered me wrong," he says.
When Mark proposed, Priscilla says the very first words out of her mouth were, "Oh, great! I have always wanted to decorate your property." Mark took this as a favorable signal, and the couple immediately merged families.
In the 13 years since their wedding, the Rieveses have additional separate guest quarters over their garage renovated the dining area and kitchen, built a master bathroom and walk-in cupboard, and built a large covered rear porch. The couple worked together on the plan of the house and consulted with local architect Daron Tapscott, that specializes in renovations of older homes. Today it's a harmonious mix, with modern updates and vibrant charm.

in a Glance
Who lives here: Mark and Priscilla Rieves and their puppies, Georgie and Lilly
Location: Vickery Place area of Dallas
Size: 1,600 square feet (main house); two bedrooms, 2 baths, and 700-square-foot garage flat
Sarah Greenman
The master bedroom and bathroom are part of a new accession. Priscilla calls herself a "sucker for colour" and hasn't been shy about decorating with bright and bold hues. Turquoise accents temper the walls.
Paint: Spanish Olive, Glidden; bedding: Anthropologie
Sarah Greenman
Vaulted ceilings, contemporary fixtures and a sizable walk-in shower highlight the new master bathroom, while wood floors, white wainscoting along with an original pocket door keep the bungalow's timeless style.
Paint: Soothing Green Tea, Glidden; stool: El Paso Import Co..
Sarah Greenman
A pink and green guest room faces the front of the house and houses a 1930s green bedroom set which once belonged to Mark's paternal grandparents. Each piece in the set features hand-painted accents. Priscilla's great-aunt (whom she is named later) painted the portrait of a 2-year-old Priscilla.
Paint: Soothing Green Tea, Glidden; bedding: Cynthia Rowley
Sarah Greenman
Mark updated the home's only original bathroom when he first moved in. He added a base sink to maximize floor area and installed a black and white checkered floor.
Shower curtain: Anthropologie; mirror, wall-mounted accessories: Pottery Barn
Sarah Greenman
The home is sprinkled with family heirlooms, like this 1860s walnut secretary from Mark's family members which sits in the living area. When Mark moved, he awakened the carpeting and was thrilled to find original oak floors.
Before Photo
Before the couple restored, their kitchen was a closed-in, galley-style area with a very small pantry in the far end. To make an open-concept kitchen, they eliminated a nonsupporting wall (left) between the kitchen and the dining space, and removed the pantry cupboard.
Sarah Greenman
AFTER: Now the kitchen is open into the dining area and has an entry (right) from the hallway outside. Mark says, "During this renovation we also restored each of the base and crown molding back to the original boards that are open, which had been eliminated in the kitchen and in several rooms."
The countertops are Red Dragon granite.
Cabinets: Akurum, Ikea; Bundle: Domsjö, Ikea; drawer pulls: Anthropologie
Sarah Greenman
When the Rieveses updated their kitchen and dining space, they converted the original breakfast nook into a butler's pantry. What was a catchall for sports equipment and bicycles is presently a well-appointed coffee channel and additional kitchen storage.
Sarah Greenman
The rear porch was a important part of the home's renovation. The Rieveses wanted an outdoor area which they could appreciate year-round. Daron Tapscott's design expanded the roofline to match the original and contained a raised deck and grand fireplace.
Mark grew up in Roanoke, Virginia, and even as a child, he always had an appreciation for its history, scenery and small-town environment of the Roanoke area. When work brought him to Dallas 23 years back, he "was attracted to this area as it has a sense of history, tens of thousands of beautiful trees and a small-town feel," he says.
Mark and Priscilla inserted a playful touch to the back of this pecan tree.
Sarah Greenman
Mark, revealed, calls the outside room his "man porch." On cool days Priscilla knows she can find Mark relaxing and watching his Virginia Tech Hokies or the Texas Rangers on the outside flat-screen TV. Priscilla has decorated the area for Halloween.
Mark salvaged wood from another 1920s home in the area and built a custom cabinet for the TV. He awakened the cover using a rope and pulley system, so that he can mechanically open it and close it off to protect it if its not being used.
Sarah Greenman
Here is the cupboard closed.
Mark and Priscilla installed a Rumford fireplace on the rear porch. The Rumford, common from 1796 until about 1850, is a tall, shallow fireplace; it had been designed by a physicist who had been known for his investigations of warmth. He made them smaller and shallower so they would radiate warmth better.
The fireplace poker set was hand forged 45 years back with a blacksmith who worked at Mabry Mill on the Blue Ridge Parkway in Virginia. "Fires in the fall, spring and winter can't be paired," Priscilla says. "Plus it is a wonderful place to watch films or have a romantic dinner."
Sarah Greenman
The fireplace is made of local recycled brick dating back into the early 1900s. Mark awakened these 3 special imprinted bricks in the yard when they have been building the garage and flat, and installed them in the base of the hearth.
Sarah Greenman
The backyard opens up to the backyard and garage, which are shaded by an huge pecan tree. To make extra living space that could be multifunctional, the couple built a 700-square-foot flat over the garage. When the Rieveses were renovating the main home, they dwelt in this area for six months.
Sarah Greenman
The guest apartment has an open studio layout. Priscilla and Mark both have home offices in this area. There's also a small bathroom in the rear corner, and a sink and a small fridge.
The flat, like the home, is adorned with things found over the years. A number of Priscilla's favorite Regional places to shop at are Gypsy Wagon, Curiosities and Random.
Sarah Greenman
The flat has an eclectic mix of Santa Fe–fashion furniture and funky colours and patterns. "This distance provides privacy and comfort for family and friends that come to stay," says Priscilla. "We do not believe that adage that in case you create a guest space too nice, people won't want to leave."
Bedding: Anthropologie
Sarah Greenman
This corner of the guest flat is Priscilla's workplace and study area. She functions as a pediatric nurse, and is now getting a PhD in child development.
Desk: El Paso Import Co.; blossom screen: HomeGoods
Before Photo
The bungalow outside was formerly gray and had minimum plantings, all of which have been shrouded by overgrown trees. But it had "classic American style and great bones," Mark says.
Sarah Greenman
AFTER: Mark chose Spanish Moss from Restoration Hardware as a base colour and trimmed the home in black and white. The large front porch is presently decorated for fall and Halloween to greet trick-or-treaters.
Sarah Greenman
Priscilla and Mark, revealed here, love to sit on their porch swing at the afternoons and talk with passersby. "We know our neighbors," says Priscilla. "And porch time is a ritual for us if the weather is fine."
See more photos of this home | Show us your house
Browse more homes by style:
Little Homes | Colorful Homes | Eclectic Homes | Modern Homes | Contemporary Homes |
Midcentury Homes | Ranch Homes | Conventional Homes | Barn Homes | Townhouses | Apartments | Lofts | Vacation Homes